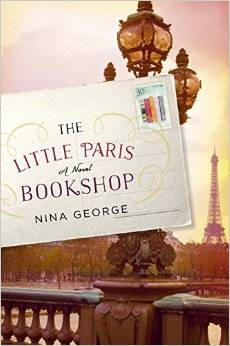 Stepping into his floating bookstore on a barge, The Literary Apothecary, you might not get the book you want, but you'll get the one you need – even if you didn't know it. Nina George's international bestseller, The Little Paris Bookshop, now translated into English for the first time since its original 2013 German publication, is a story about grief, denial, love, heartbreak, friendship, and how books can aid in all of these aspects of life.
"You see… a book is both medic and medicine at once. It makes a diagnosis as well as offering therapy. Putting the right novels to the appropriate ailments: that's how I sell books." (28)
Jean Perdu is an interesting man. Just from a short conversation he can tell you what book is right for you. A book to make you laugh. A book to make you cry. A book to mend your heart. A book to be there for you when everyone else fails. The self-described literary apothecary helps other people solve their problems with his unique gift. But what happens when the 'book doctor' needs healing?
For over twenty years, Monsieur Perdu has been holding on to the guilt, anger, and most of all, the hurt from a love that walked out on him all those years ago. All she left him was a letter that he never opened – until now. Its contents are like a punch in the gut. It spurs Perdu to abruptly unmoor The Literary Apothecary and make his way down the River Siene and out of Paris to find the truth he had been so blinded by hurt to see. The Literary Apothecary becomes a traveling refuge for Perdu and the companions he picks up along the way: Max Jordan, a young bestselling author trying to hide from the public eye while suffering from writer's block and Salvatore Cuneo, an Italian chef also looking for a love that left after one night. Along the way, they make friends by trading books and wisdom, ultimately sharing the healing power of books.
The Little Paris Bookshop is a heart-warming story of adventure, books, and self-discovery. It is also about relationships, not just the romantic kind but the relationships between family and friends, as well. My favorite in the story has to be – hands down – the relationship between Perdu and Max. Although a bit testy at first, they soon develop a strong father-son bond and a true understanding and respect for each other. Their interactions, so craftily created by Ms. George, became my favorite parts of the book and their friendship will be one that stays with me.
This is not a fast-paced book but if you take the time to let it sit with you, you will find a story that is truly uplifting and full of heart. And you may discover a new source of healing that you never expected.
Twisted Talk: Has a book ever healed or mended your heart? Has one changed your life? Will you read The Little Paris Bookshop? Discuss below!